A week or a week and a half ago, I posted some pictures here on 430 To Fit. These were pictures of when I weighed 430 pounds. It had been a long time since I had even looked at those pictures, let alone shared them with others.
I thought it would be kind of fun to post them since I have really lost a lot of weight over the years. Yeah, I still need to lose significant weight, but from time to time it is good to look at where we have been before refocusing on where we are going. Because in the few days preceding my posting of those pictures a lot of people had seen some new pictures of me and really commented a lot on how much weight I had lost, I felt it was a good time to look back for a brief moment.
Most of the friends that I have today did not know me back in the days when I weighed that much. Most did not realize that I had already lost a lot of weight previous to this latest attempt to continue my downward progress in weight loss.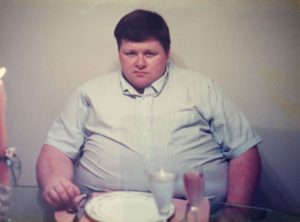 You know, posting those pictures really had an effect on me that I had no idea I would experience. I am a member of several low carbs and fasting groups on Facebook. I posted a link to the post not only on my FB but on those groups too. Suddenly I got an outpouring of support from people, and also people telling me that they were now more inspired to keep going, etc.
Friends, when that support started coming in, I broke down into tears. I bawled almost uncontrollably for about 30 minutes or maybe longer. Feyma was asking me what happened, what was wrong, and I was unable to even tell her because I could not talk. This has been a lifelong struggle for me, and now, I feel that I am journeying on the right path at long last. I have found the right way to do it. Before I would be ridiculed by people and they did not know I was trying so hard for so long. They thought I was just lazy or stupid. There have been times that I have eaten a diet of 800 calories per day, and still gained weight almost every day.
Posting those pictures made me feel like I laid out all of my cards on the table. I was able to look at that fat guy in the pictures, and turn my back and walk away.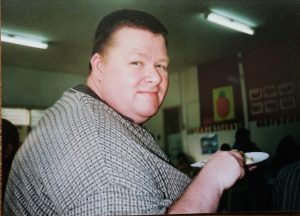 It was a really liberating experience, posting all of those pictures. It was like I was leaving that guy in the pictures behind, never to visit him again. He is not me any longer. I am a different person in many ways, most ways really, but especially when it comes to weight.
At that time, I was 430 pounds. Today I am 265 pounds (varies a bit day by day). I have lost 165 pounds since then. I would still like to lose maybe 80 pounds or so, I will decide that later. Right now my weight is at a bit of a plateau, but I am trying to do what I can to kick things back in to start losing more weight. I know I will, but you have to give it the time.
Thanks for your support, everybody!